NOVEMBER 19th, 2023             12:30 - 5PM
SHOP in Cabot on Sunday, November 19, 2023. SPEND at participating Cabot Chamber of Commerce businesses. WIN prizes from your favorite local retailers!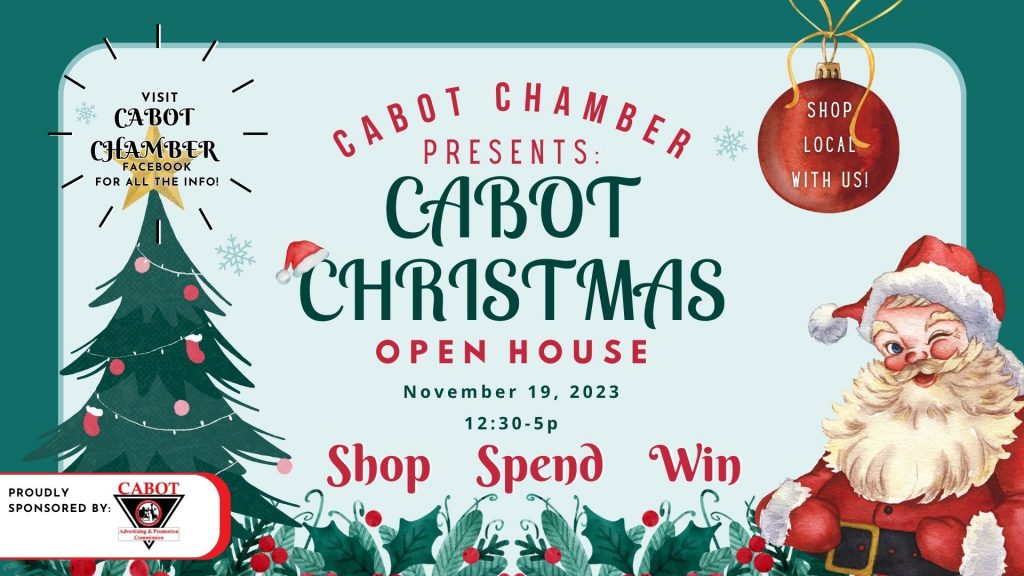 Kick off your holiday season in Cabot with our annual Christmas Open House on Sunday, 11/19 from 12:30 pm - 5 pm!  This is a wonderful time to get into the Christmas spirit, start your holiday shopping, AND support our local businesses.  Holiday decor, gifts, refreshments, sales, door prizes, and gift wrapping are just some of the wonderful features you will find at this year's Open House.
Drawing to be held for a chance to win a GRAND PRIZE gift basket showcasing items from each of the participating businesses ($500 value)
We will also be doing 4 additional drawings for a chance to win a $100 gift card to the participating location of your choice!
HOW TO WIN: You receive one entry per person per location with no purchase necessary.  HOWEVER, for every $20 you spend at our participating chamber member retailers you will receive an additional entry in the drawing!
We are looking forward to kicking off the most wonderful time of the year with you and your family!
ABLAZE FITNESS  2006 S. Pine Street, Ste. C
ANITA'S ACCESSORIES  521 W. Main Street, Ste. E
ART KITS & MORE, LLC  2794 S. 2nd Street, Ste. A
AT&T  204 S. Rockwood Drive, Ste. H
ATWOODS RANCH & HOME  2475 AR-89
B. BRANNIGAN AESTETICS  2241 Bill Foster Memorial Hwy, Ste. E
BEAUTY BOSS  1604 S. Pine Street, Ste. C
CURLY WILLOW DESIGNS  210 W. Locust Street
FIRED UP CABOT  1800 S. Pine Street
GLAZE CLOTHING BOUTIQUE   1004 S. Pine Street, Ste. B
GLAZE CURVY GIRL  105 N. 8th St, Suite 9
HARRIS HOMESPUN  312 E. Main Street
HELLO SUNSHINE BOUTIQUE  208 Plaza Blvd., Ste. A
HIDDEN WILLOWS   2770 S. Second Street
HUMBLE THREAD  711 S. PIne Street, Ste. A
J&M CHARCUTERIE + KAYLA'S COOKIES  306 S. Second Street
JUNE'S HALLMARK  194 Dakota Street, Ste. E
LA TORCIA BRICK OVEN PIZZA  2501 W. Main Street, Ste. G
LCSH THRIFT STORE  201 N. 2nd Street
NATURAL STATE SKIN SPA  105 N. 8th Street
NENE'S DISHES  32 S. Pine Street, Ste. 5
PANTHER NUTRITION  1106 S. Pine, Ste. A
PETALS AND PLANTS   405 W. Main Street
PIZZA PRO  906 S. Pine Street, Ste. 1
POPCORN SPOT  1802 S. Pine Street, Ste. G
RAYBURN SPORTS  16 Ryeland Drive
REVOLUTION MED SPA  1106 S. Pine Street, Ste. C
SAGE TEA & TREATS  1102 S. Pine Street, Ste. 2
SCENTSY - LORRIE HENSON  1106 S Pine Street, Ste A
SHALEE'S DAY SPA  1102 S. Pine Street, Ste. 8
SOUTHERN DECOR/HANDBAG EXPRESS  911 S. Second Street
SQUIZITO TASTING ROOM  711 S. Pine Street, Ste. C
SUN RAYS  2239 Bill Foster Memorial Hwy, Ste. A
THE ARTISAN HUB 1106 S. Pine Street, Ste. C
THE FURNITURE STORE  111 S. Adams Street
TRACTOR SUPPLY CO.  906 S. Pine Street
ULTRATAN JEANS ETC  901 W. Main Street
VIP NUTRITION  2051 W. Main Street, Ste. D2